Nurse G's Notes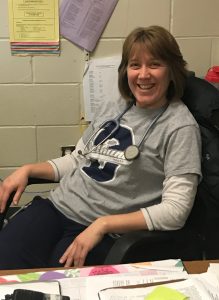 Below you will find the necessary forms that might be needed for your child.  Click here to access them:
S-865 Student Medical Form
MEH-1 Physical Examination Form
MED-1 Request for the Administration of Medication, Treatments, or use of Equipment in School
M-64 Permission for Exam & Testing by School Nurse
M-68 Consent for Release of Information
Immunization Requirements for 2017-2018
Does your child have a health condition we need to know about?
As the school nurse at Mary McLeod Bethune Elementary School, I would like to know about your child's health condition, so I can help you and your child have a successful school year.  Please complete the student medical form and return it to the nurse as soon as possible.
If your child requires medication in school, please contact the nurse or send your child to the health room for the proper form to be completed by your child's doctor.  For everyone's safety, student's ARE NOT permitted to bring any medications into school without written permission from the parent, doctor, and the approval of the school nurse.  This includes asthma inhalers and over the counter medications.
Thank you for your assistance, and please feel free to call the school to speak to me.