We Are Bethune!
Half Day Friday December 15th, 2023.
---
No School Monday December 25th – January 2nd for Winter Break.  School is back in session Wednesday January 3rd
---
*** We are looking for**
7th/8th Grade Math/Science
Climate Support Staff
---
Please click on the link below to access and complete the student emergency/medical information form which needs to be completed each year.
https://docs.google.com/forms/d/e/1FAIpQLSdej4jw5iFsEccIUYrK4IUWrEdFgCRfxevgUNb8DcYlkM34Jw/viewform
---
New, updated safety procedures are here at Bethune.  Learn more by clicking here to view the flyer.
---
A letter about our annual Asbestos report can be found here (English) (Spanish).
---
Here is a general Right To Know letter (2022-2023) to all parents informing them of their rights to know when their child is taught for an extended period by a Not Appropriately State Certified Teacher.  Any questions about this please reach out to Principal Bradley (English) (Spanish)
---
Bethune's School-Parent Compact (2022-2023) can be found here (English) (Spanish)
---
Bethune's Parent and Family Engagement Policy (2022-2023) can be found here (English) (Spanish)
---
The 2021-22 Mary M. Bethune School Plan is now available for public review. Please provide any feedback HERE.
---
Here are the notices of a Federal mandate by the EPA informing building occupants of the availability of the 3 Year AHERA Management Plan (English Version) (Spanish Version)
---
A Message from Principal Bradley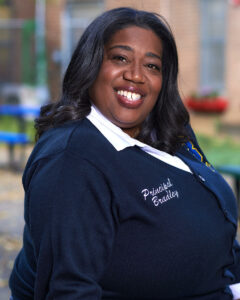 Hotep Family,
This year will promise to be as colorful and nuanced as each year prior.  Each year post Pandemic learning we would start out saying "this year can't be as hard as last year…" and boy how wrong we were!  We are very clear now that each year will require us to work differently, continue to be innovative and protect our peace.  Our scholars must be at the center while we're here and we need to ask ourselves – what must we release to be present?  I am looking forward to a year of healing-centered work!
This is our year,
Principal Bradley
---
A Message from Assistant Principal Evangelista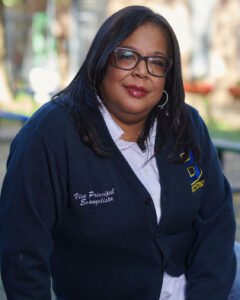 Dear Bethune Bears,
I am so excited to begin my tenth year as your assistant principal.  I hope that your summer was relaxing and rejuvenating. The beginning of a new school year reminds us that the future holds infinite possibilities.  I look forward to continuing our focus this year on teaching and learning so that our scholars graduate college and career ready. I am here to serve this community of learners and to help support ALL scholars in finding their voice in order to appropriately advocate for themselves and others.
Have a wonderful school year!
Assistant Principal Evangelista
---
A Message from Assistant Principal Frye-Thompson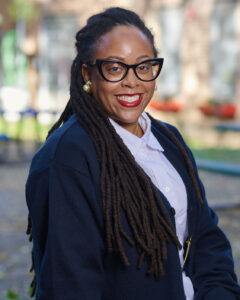 Dear Bethune Family,
My name is Assistant Principal Frye-Thompson. I am excited for the upcoming school year. My core values as an educator are providing high-quality and equitable learning experiences for scholars in Philadelphia. I believe the Bethune community is committed to building a firm educational foundation that will enable scholars to become life-long learners prepared to serve local and global communities.
I feel privileged to continue the legacy of Dr. Mary McLeod Bethune by supporting our scholars' learning and encouraging them to become empowered servants.
Let's lean on each other and get into the work!
Assistant Principal Frye-Thompson
---
A Message from Principal Resident Ryans
Dear Bethune Family,
It brings me great joy in joining such a rich culture of teaching and learning at this school that bears the name of a genuine liberation pioneer-Mary McLeod Bethune.  I've always believed that the work that I do in service of children is transformative. My only hope is that children will then transform or shift the culture for the good of all that is rich in her legacy.
Let's embrace the shift!
Principal Resident Ryans